Author: Bhumika Appaswamy
NPS International School, Mysore
November, 2020
Introduction
The Coronavirus pandemic (COVID-19) is a worldwide medical and economic emergency caused by a newly discovered coronavirus. The first human cases of COVID-19, were reported by officials in Wuhan City, China, in December 2019 which then spread to many countries including India. India reported the first confirmed case of the coronavirus infection on 30 January 2020 in the state of Kerala. And now India has a total of 8.27 million cases as of October 2020 making it the second worst hit country after the US.
The economic impact of the pandemic has been largely disruptive. During lockdown, employment has come down by a large number, GDP rates are declining and many businesses are shut down. According to the World Bank, India is likely to record its worst growth performance since the 1991 Liberalisation this fiscal year.
In May, The Indian Government announced a 20 lakh crore (307.6 US billion dollars) economic package consisting of both fiscal and monetary measures which includes reforms which were previously announced. This package includes policies which affect micro, small and medium businesses (MSMEs), migrant workers, agriculture etc. Mr. Modi said that this package accounts for about 10 per cent of the Indian GDP. However, according to the estimation by Barclays and HSBC India the package is only worth about 1-2 lakh crore (15.38-30.7 US billion dollars) which accounts for about 1 per cent of the Indian GDP.
Since the Indian economy was already slowing down before the pandemic due to the 2016 Indian Banknote demonetisation and Infrastructure Leasing & Financial Services crisis, I feel that more action needs to be taken by the Indian Government in order to improve the Indian economy for the long run. I will be sharing my thoughts and opinions on the current economic situation in India and will also be discussing some potential policies regarding employment, interest rates and corruption. 
Discussion
Employment and Unemployment Rates
If we compare the unemployment rates before and after Covid-19, we see a huge spike. This is mainly due to the nation-wide lockdown imposed during the months of March, April and May. However, after the 20-lakh crore (307.6 US billion dollars) economic package was announced in mid may there seems to be a decrease in unemployment rates particularly in rural areas. As of 15th October, the unemployment rate in India is 6.8 per cent while in the urban sector its 7.9 per cent and in the rural sector 6.4 per cent. These rates are significantly low when compared to the rates in April (before the package was announced) where the unemployment rate in India was 23.52 per cent, in the urban sector it was 24.95 per cent and in the rural sector 22.89 per cent.
The unemployment rate in October is almost 3 times less than what it was in April. Also, the unemployment rate as of 15th October is much lower than pre-covid rates as well. In December 2019 the unemployment rate, as seen in Table 1, is 7.60 per cent in India, 9.02 per cent in the urban sector and 6.93 per cent in the rural sector. Comparing these rates to the current rates, unemployment has come down by approximately 1 per cent in India.
If we look at table 2, we would see that the most hard-hit age group is 18 to 25 years. Even before Covid-19 struck the unemployment rate for younger people was much higher than the older people.
This may be due to the fact young workers are not appropriately qualified and lack the needed skills.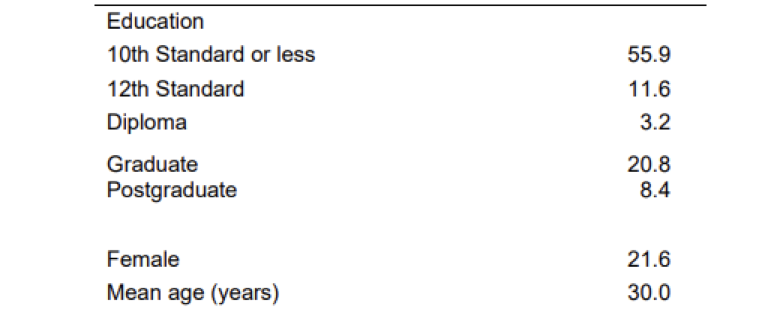 From the table 3, we can see that the majority of workers have less than ten years of formal education which is not nearly enough to work. Only 3.6 per cent of workers have a diploma.
If we compare the unemployment rate by work types, we would see that unemployment during Covid-19 in the informal sector is almost 3 times higher than the formal sector. But, before the pandemic, unemployment in both the formal and informal sector was almost the same. This shows the informal sector has been severely affected by Covid-19 due to the lack of labour laws, job security, insurance schemes, pension etc.
The average labour participation rate in the first three weeks of September was 40.7 per cent. These compare poorly with the 40.96 per cent recorded in August. The average LPR from June through mid-August was almost 40.9 per cent. This average has dropped to 40.45 per cent for the period mid-August through mid-September.
A falling labour participation rate indicates a smaller proportion of the working age population is employed or, is unemployed and is looking for employment. It can also mean people who are still studying or people who are retired are more in number in India.
The employment rates in India stood at 37.6 per cent, 37.5 per cent and 37.9 per cent in the first three weeks of October, lower than 38 per cent recorded in September. The employment rate stood at 39.4 per cent in 2019-20. The average rural employment rate stood at 39.1 per cent in the first three weeks of October is lower than 39.8 per cent in September, which was its highest level since the lockdown, and was closer to 40.7 per cent in 2019-20. The average employment rate in urban India in the first three weeks of October was 34.8 per cent in September but still over 200 basis points lower than the 2019-20 level.
From my point of view, even though unemployment rates are coming down, there has been a decline in employment rates as well. The Indian Government needs to take action to improve employment as high employment would reduce inequality and prevents relative poverty from those who are unemployed. It would improve business and consumer confidence which will encourage higher growth in the long term.
Indian GDP Rates
After the announcement of the economic package, India's GDP estimates were downgraded even more to negative figures signalling a deep recession. Estimates from the World Bank says GDP in India will contract by 9.6 per cent in FY21. On 22nd May 2020 the RBI governor Shaktikanta Das also said India's GDP growth will remain negative in FY21.
State Bank of India research predicts a contraction of over 40 per cent in the GDP in Q1 FY21. On a quarterly basis, India's growth rate fell from around 8 per cent in Q4 FY18 to a new low of 4.5 per cent in Q2 FY20.
India's real GDP declined y-o-y by 23.9 per cent in the quarter ended June 2020, reversing the economy back to its quarterly level of less than rupees 27 trillion.
The reason why the Indian GDP is declining rapidly may be due to the decline in consumption demand from private individuals, demand by private sector businesses, demand for goods and services generated by the government etc.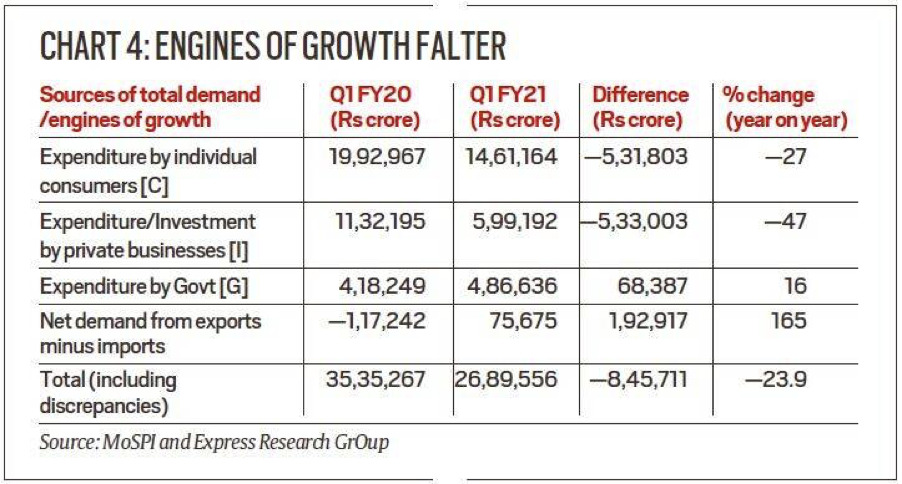 Looking at the percentage changes (year on year) in Table 4 we can see private consumption has fallen by 27 per cent. Business investments is half of what it was last year in the same quarter. Net export demand has turned positive in this Q1 because imports have crashed more than its exports.
Although government expenditure went up by 16 per cent, in my opinion, it is nowhere enough to compensate for the loss of demand in others sectors of the economy which has in turn led to decline in the Indian GDP.
Business Creation and Business Death
According to the data provided by the Minister of State Finance and corporate affairs Anurag Singh, the number of companies registered from April to August 2020 by all Registrar of Companies (ROCs) is 51,807. However, the applications for setting up of new companies were received prior to the global pandemic. So, we still are unsure about the rate of creation of businesses during the period of Covid-19 as legitimate sources of data on this subject have not yet been provided.
Before COVID-19, a total of over 6,80,000 companies were closed across India. The number of closed companies account for 36.07 per cent of the total 18,94,146 companies that are registered under Registrar of Companies. Out of the total 6,80,000 companies that have been shut, over 1,42,000 were in Maharashtra, more than 1,25,000 were in Delhi, over 67,000 were in West Bengal while no company was closed in Sikkim.
The obvious reasons why businesses are shutting down so quickly is due to the rapid decline in demand for goods. Businesses related to online grocery, healthcare and essential goods are booming as they are in popular demand.
To improve business creation and lower business deaths the government should try and lessen the burden on businesses in order to function during the pandemic. The Indian government should allow businesses to continue to exist by giving business employees a paid holiday instead of just laying them off. The government could also reduce paperwork, lower taxes or provide tax refunds as well.
Agricultural Sector
The agricultural sector is an important part of India's economy. It is among the top two farm producers in the world with China being the first. This sector provides approximately 52 percent of the total number of jobs available in India and contributes about 18.1 percent to the Indian GDP. This is perhaps the reason why the government has devoted a whole tranche of the economic package to this sector.
GDP from Agriculture in India decreased to 4546.58 INR Billion in the second quarter of 2020 from 5306.26 INR Billion in the first quarter of 2020.
However, according to the quarterly estimates of GDP released by the National Statistical Office the gross value added (GVA) from agriculture, forestry and fishing grew by 3.4 per cent at constant prices in April-June 2020 over April-June 2019. This is against a 22.8 per cent YoY decline in overall real GVA for the quarter.
The Indian Government has introduced a lot of policies in the agricultural sector to assist farmers and also to strengthen the overall farm sector. This has led to a declining rate in unemployment especially in the rural areas as mentioned above. Seeing this, we would expect food prices to come down as well.
But the cost of food in India increased 10.68 percent in September of 2020 over the same month in the previous year. It is the highest food inflation since February and ahead of the festival season. Prices of vegetables jumped 20.73 percent, meat and fish 17.6 percent and pulses 14.67 percent.
Although, the Indian government has done well in introducing policies to improve the farm sector, I feel they need to focus on lowering food prices because if this trend continues a lot of people would not be able to afford food at such high prices.
Transactions
Unified Payment Interface (UPI) saw an increase of 8.3% in the total transaction volumes between May and June 2020, according to data published by the National Payments Corporation of India (NPCI). For the same period, the amount transacted went up by 20%.
The total number of transactions in June 2020 was around 1.8 times higher than in the same month last year.  The total amount transacted during the month stood at Rs 2,61,835 crore (approximately 35 billion US dollars), up 1.79 times year-on-year as seen in Chart 5. There is a steep descent following the increase in the month of April, which was likely due to a nationwide lockdown that was imposed to prevent the spread of Covid-19.
The average amount per transaction increased to Rs 1,958 for June 2020 as seen in Chart 6. The average had been trending up since November 2019, but saw a dip in April, and a minor dip in March.
If we look at Chart 7, the number of transactions increased by 102.4 million in June, whereas the total amount transacted went up by Rs 43,443.4 crores (nearly 6 billion US dollars). In the previous month (May 2020), volume had increased by 234.9 million and the amount transacted grew by Rs 67,250.9 crores (approximately 9 billion US dollars).
With an increase in transactions and amount per transaction, cash is moving faster, which means there is an increase in economic activity, this may in turn lead to an increase in economic growth which is much needed for the Indian economy.
Policy Recommendations
Even though unemployment rates in India have come down significantly during the past few months, these rates are still not ideal for a developing economy. The Indian Government should be trying to furlough workers for a certain period of time. This is exactly what the German Government is doing. The furlough programme in Germany also known as kurzarbeit is a social insurance programme whereby employers reduce their employees' working hours instead of taking away their jobs. Under kurzarbeit, the government normally provides an income replacement rate of 60 percent (more for workers with children).
Which means that a worker receives 60 per cent of his or her pay for the hours not worked, while receiving full pay for the hours worked. So, a worker would only experience a 10 per cent salary loss for a 30 percent reduction in hours. This scheme was very helpful in keeping the employment stable during the global financial crisis.
This policy without a doubt reduces unemployment, since workers do not lose their jobs and also protects workers' income as well. As COVID-19 will have a much larger impact on the German economy than the global financial crisis did, workers will now have greater income protection as the replacement rate will increase. The replacement rate, starting at 60 per cent for the first three months, will increase to 70 per cent during the 4th to 6th months, and further to 80 per cent from the 7th month. The maximum duration of the program has been extended to 21 months. Moreover, the coverage will be expanded to temporary workers as well. In my opinion, this is an excellent policy to be used during times of economic crisis. The Indian Government should be looking at policies similar to Kurzarbeit to reduce unemployment and increase income protection.
The real interest rate in India was reported at 6.93 per cent in 2019, according to the World Bank collection of development indicators, compiled from officially recognized sources.
The Reserve Bank of India should be looking at lowering real interest rates to zero or negative figures. This would encourage low-cost borrowing and greater access to cheap credit by firms and individuals. The benefit of low interest rates is their ability to stimulate economic activity.
Lowering interest rates would also increase business investment which would in turn benefit the Indian GDP. The RBI can help spur business spending on capital goods, which also helps the economy's long-term performance. Businesses' increased capital spending can then create jobs and consumption opportunities as well.
Another benefit of low interest rate is that asset prices can be raised. When money supply increases, people find themselves with more money balances than it wants to hold. In response, people use these excess balances to increase their purchase of goods and services, as well of assets like houses. Increase demand for these assets, raises their price.
The zero interest policy has been implemented in the wake of several economic recessions over the last two decades. First used by Japan in the 1990s, the U.S., the U.K. and EU nations have turned to lowering real interest rates to zero to stimulate economic activity during economic recessions.
Another policy known as Quantitative Easing should be implemented by the Indian Government. QuantitativeEasing involves a central bank (The Reserve Bank of India) printing money and using that money to buy government bonds (long term debt) in order to inject money into the economy to expand economic activity.
Large-scale purchases of government bonds lower the interest rates on those bonds. This pushes down on the interest rates offered on loans (e.g. mortgages or business loans) because rates on government bonds tend to affect other interest rates in the economy.
So, it works by making it cheaper for households and businesses to borrow money which would encouraging spending. 
Lower long-term interest rates will keep business confidence high as well as giving commercial banks extra deposits to use for lending.
Quantitative Easing can also make India competitive overseas. Particularly it leads to a depreciation of the exchange rate which then makes export industries more price competitive.
It would also ensure that inflation does not fall below the central bank's inflation target. By implementing this policy, the government would be able to stimulate demand and long-term growth. It would also help keep the economy out of recession.
Corruption in India is an issue which affects the economy in many ways. Not only has it held the economy back from reaching new heights, but rampant corruption has stunted the country's development. Especially during COVID-19, people are being exploited and funds are being misused.
If we look at Map 1, bribery persists in almost all the states at high levels. The government should be looking at introducing a National E-Government programme wherein, Indian citizens instead of going to centres to pay taxes, or to pay their electricity bill, do this online on an electronic device. Especially for those in rural areas, the government should provide electronic devices in centres for those people who don't have access to computers or the internet. This would eliminate bribery. When people come to government counters or centres, they are bribed by government officials but, by introducing online websites this would avoid people coming in contact with government officials or members of a political party. By introducing this programme, the government should also educate people on how to use their online platform to pay their taxes or collect rations through the internet.
The government should also strengthen laws against corruption and there should be good enforcement of the Act or the law. Despite the Prevention of Corruption Act 1988, corruption is still flourishing. This is because of weak actions and proceedings towards corrupt people. People don't have any fear of this act and the court. The act must be revised for better implementation.
Indian citizens should be educated on this issue as those who are uneducated do not know about the process, provisions and procedures through which they can get justice. Corrupt public servants often demand bribes. It is due to unawareness in the field of law, public rights and procedures thereof that a common and an uneducated suffer out of the corrupt society. This suggests that if we are educated, we can understand our rights well. The government should create awareness on how corruption is polluting the Indian Economy and how people are contributing to it without even realising.
We could also reduce corruption levels by bringing in reforms to improve productivity, to increase the salaries of the civil servants matching the bribes demanded by them. This way, civil servants would stop the act of bribery and thus reduce corruption. Doing this would also generate tax revenue which is good for the state. Reducing corruption would also benefit the society as people would have more trust towards the government. It would also increase investment as corruption levels are low and businesses would have much more faith in the government.
Conclusion
Overall, the Indian economy has been badly hit. With high unemployment rates, high food prices, negative GDP figures and many businesses shut, the Indian economy may take years to recover from this crisis especially with high levels of corruption present.
By implementing a policy similar to the German furlough scheme, employment would increase in India as people would know that their income is protected. By lowering interest rates, business spending and investment would increase which would create more job opportunities benefitting the unemployment crisis. And last and most importantly, reducing levels of corruption would automatically improve the Indian economy as corruption persists at all levels and plays a major role in the declining trend of the Indian economy.
Ending on a positive note, Duvvuri Subbarao, a former RBI governor, said that India could look forward to a V-shaped recovery. A V-shaped recovery might be the best outcome during the pandemic
References
Mentor: Dr. Eric Golson, University of Surrey
Economic stimulus package | details of ₹20-lakh-crore package announced by union finance minister nirmala sitharaman in five tranches. (2020, May 17). Retrieved from https://www.thehindu.com/news/resources/economic-stimulus-package-details-of-20-lakh-crore-package-announced-by-union-finance-minister-nirmala-sitharaman-in-five-tranches/article31606806.ece
Unemployment rate in India. (2020, October 15). Retrieved from https://unemploymentinindia.cmie.com/
Bhalotia, S., Dhingra, S., & Kondirolli, F. (2020, September). City of Dreams no More: The Impact of Covid-19 on Urban Workers in India. Retrieved from http://cep.lse.ac.uk/pubs/download/cepcovid-19-008.pdf
Vyas, M. (2020, September 21). Deceptive fall in the unemployment rate. Retrieved from https://www.cmie.com/kommon/bin/sr.php?kall=warticle&dt=2020-09-21%2013:24:43&msec=976
Sharma, Y. S. (2020, October 22). Rise in unemployment rate weakening India's labour market recovery, says CMIE. Retrieved from https://economictimes.indiatimes.com/jobs/rise-in-unemployment-rate-weakening-indias-labour-market-recovery-says-cmie/articleshow/78803843.cms
52,000 new companies opened in India amid lockdown; more firms opened than closed. (2020, September 16). Retrieved from https://www.financialexpress.com/industry/52000-new-companies-opened-in-india-amid-lockdown-more-firms-opened-than-closed/2084723/
Over 6.8 lakh Indian companies shut so far: Government. (2019, July 2). Retrieved from https://retail.economictimes.indiatimes.com/news/industry/over-6-8-lakh-indian-companies-shut-so-far-government/70034049
India Food Inflation. (2020, September). Retrieved from https://tradingeconomics.com/india/food-inflation
India GDP From Agriculture. (2020, July). Retrieved from https://tradingeconomics.com/india/gdp-from-agriculture
Damodaran, H. (2020, September 1). Only farm sector output sees growth, outpaces overall GDP for 3rd straight qtr. Retrieved from https://indianexpress.com/article/business/economy/only-farm-sector-output-sees-growth-outpaces-overall-gdp-for-3rd-straight-qtr-6578009/
Verma, S. (2020, July 5). Number of UPI transactions grew to 1.34 billion in June 2020, Rs 2,61,835 crore transacted. Retrieved from https://www.medianama.com/2020/07/223-number-of-upi-transactions-grew-to-1-34-billion-in-june-2020-rs-261835-crore-transacted/
Kurzarbeit: Germany's Short-Time Work Benefit. (2020, June 15). Retrieved from https://www.imf.org/en/News/Articles/2020/06/11/na061120-kurzarbeit-germanys-short-time-work-benefit
Rich, R. (n.d.). The Great Recession. Retrieved from https://www.federalreservehistory.org/essays/great_recession_of_200709
What is quantitative easing? (2020, November 5). Retrieved from https://www.bankofengland.co.uk/monetary-policy/quantitative-easing
Sundström, A. (2017, July 8). Exploring Performance-Related Pay as an Anticorruption Tool. Retrieved from https://link.springer.com/article/10.1007/s12116-017-9251-0
---
---
About the author